Today on the blog, it is my pleasure to present an interview with one of Italy's hottest soccer players, Sebastian Giovinco, who joined Toronto FC from Italian heavyweights Juventus in 2015.
A creative player on the ball, with excellent vision and technical skill, he is a free kick specialist and capable of playing in several offensive positions. He is the first player ever in MLS to record at least 20 goals and 10 assists in a single season.
I'm so glad to have met him two years ago in Toronto, and I just want to thank him and Toronto FC for this interview. Enjoy!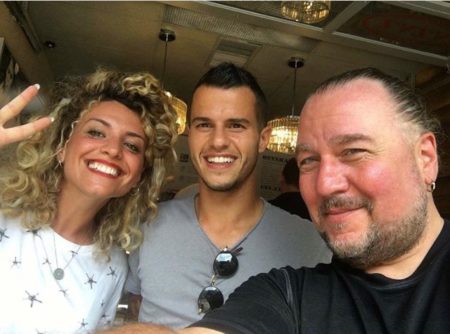 How is life going for you in Toronto? To what extent can you call this city your second home?
I am enjoying life in Toronto. The city is beautiful and the people of Toronto are very friendly and welcoming. There are many good restaurants I enjoy visiting. I also enjoy going to Raptors games.
A couple of years ago, you moved here to play with the TFC. How has this experience been for you?
It has been a very enjoyable experience so far. I was able to win MLS MVP and two Canadian Championships with TFC so far. Of course, we came close to winning the MLS Cup last year as well. The fans are very passionate and BMO Field always provides a beautiful match day experience.
I know, maybe it's too early but… What do you think about the season, which just began, compared to the last one?
It is still too early to say. So far, we are playing well. But there is still a long way to go this season.
How would you best describe your particular talent in soccer?
I am a goal scorer. I like to score goals and help my team win.
How does the game on this side of the Atlantic differ from the game back in Europe? 
Here, the players are more physical and are strong. The travel is also a big difference in MLS. Some matches we have 4-5 hour flights to go to away matches. But I enjoy it, and the league continues to grow.
Would you like to come back and resume your career with Juventus one day?
Anything is possible in football.
What's the one thing you miss most about Italy?
My family.
When you go out for food in Toronto, where do you go?
I enjoy many of the restaurants close to my home. I go out with my family and friends to a couple different places. 
What music do you listen to?
I enjoy a lot of different music, but I do enjoy listening to Drake.
I saw your picture with Drake. How did you meet him?
I met him briefly during the NBA All-Star week in Toronto.
Are you also a Blue Jays and Raptors fan?
I have been to many Raptors games, and I enjoy watching them regularly. I watch the Blue Jays in the playoffs and support them too.
If Giovinco was a movie, which would it be?
I would say an action movie.
Last question. Where do you see yourself in five years?
On the pitch of course.